So. I am selling my antique drum carder and my circular sock machine, or CSM. Quite simply, I only have so much time in a day, and these guys are not getting used. So off to another home they go!
I bought the CSM, a Gearhart from around 1920, about 5 months ago. I just haven't gotten the hang of it, and with little bitty kids running amok, I don't get the kind of time I need to play with it. I bought it from Laminathegreat on Ravelry, and I have shamelessly stolen these pictures off of the original ad she had on there, because her pictures are better than mine. It is in good condition, and works perfectly, I have just utterly failed at coordinating tension and manipulating the needles. The yarn guide thingy has been mended once before. Price is what I paid for it, $435 including shipping within the continental US. I am willing to entertain the possibility of shipping internationally. It has a 72 needle cylinder with a small chip on one fin. The cylinder has been marked with halfway points and such, which is sooooo useful! It's quite nice. It does not have a ribber, but you can finish off with a different edge, like a picot edge, a rolled edge, or cast off onto needles to put a rib on it by hand. New needles that were only used a few times as I tried to practice, and more spare needles included. Plenty of weights, which are marked.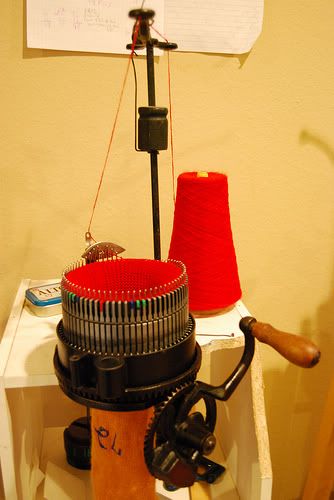 Next up is a drum carder I bought about two years ago when I first got started spinning. I bought it off of eBay. I have found now that I don't have time to do a lot of processing; I am going to send my fleeces to a mill from now on. So, I don't need the carder. I haven't used it in about six months, which is my cue to sell it!
It's a unique piece. It is a Spin-Well, made in the 1930s. The wood is painted red. The gears and belt (which appears to be original) are all in good condition, fully functional. The carding cloth also appears to be original, as it is leather with thick tines. Some of the tines have gotten a little bent, but I am loathe to change the carding cloth, as the new carding cloth would not be leather. With some patience the tines could be straightened. I have been told that it probably is supposed to have a wooden handle attached to the metal handle, but it worked fine without it, so I never bothered to replace it. It does have stabilizing clamps on one side and on the back.
I wouldn't recommend this carder for someone wanting to do lots of fine blending, like alpaca and angora. Those fibers tend to get caught up on the first drum. But it is awesome for the stronger fibers that the superfine cloth can't handle, like Jacob, Icelandic, Racka, longwools, mohair, etc. The batts are between 1 and 2 ounces. It is a real little workhorse! Pretty loud, since it really CARDS, doesn't just blend.
I am asking $240 for this carder including shipping, which is what I paid for it. I am hoping it finds a new home where it can go back to work!